Helping families in Fleet and the surrounding areas
During the years 1995 to the end of 2021 we have helped over 33,300 families - in the course of which we have redistributed some 19,300 beds, 11,000 tables, 19,000 chairs, 14'000 chests of drawers, 7,500 wardrobes, 2,100 washing machines, 14,800 sets of bedding, 9,400 bags of clothing and other household essentials too numerous to list here. All in all during those years we redistributed a total of 143,560 items.

The Store is operated entirely by volunteers and has the valued support of Fleet and other local Lions Clubs. New volunteers helpers are always welcomed with open arms.
The majority of the people we help are in Hart and Rushmoor, with lesser numbers in Farnham, Yateley, Hook, Odiham and other adjoining areas.
In recent years requests for our services have reached record levels, whilst at the same time donations have declined somewhat. Please note that, unlike many local charity furniture stores, we do not sell any of the items donated to us. Everything is distributed free, although we do have a make a minimal delivery charge to cover our fuel costs.

Honour for Store Manager Beverley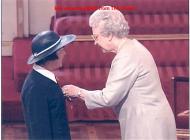 Since the Store was established its successful operation was entirely dependant on the management skills and extraordinary day-to-day dedication of founder, and manager Beverley Allardice. In recognition of this outstanding contribution to the local community Beverley was appointed MBE in 2002. A very well deserved accolade.
In December 2008, Fleet Lions honoured Beverley with a Melvyn Jones Fellowship, Lions highest award as instituted by Lions founder Melvyn Jones.
This award recognised Beverley's extraordinary ongoing contribution to the Lion's principle of community service by running the Fleet Community Store for well over 40 years, for the last 23 of which it has been a Lions project.
Until she became ill in late 2019, Beverley could still be found in the office every working day. Sadly she passed away in 2020 and will be sorely missed.