More bad news
We had hoped to carry on after the sad loss of Bev, but following the most recent Government advice we have found it necessary to suspend our service until further notice. This is to protect our donors, clients and our volunteers. It is the first time in the long life of the Store that we have had to stop our much needed work.

We do plan to maintain a very limited service, meeting some very urgent cases of need. Such requests should be made by email using the Contact Us page. We will not be able to respond to messages left on the telephone.
We cannot guarantee to meet any request as we have very limited staff resources and stock.
When making deliveries, our volunteers will take all recommended precautions to avoid infection. They will not enter any homes, so the recipient or their representative will need to be there as arranged and able to receive and take in the delivery.
Unfortunately, to avoid risk of infection, we are now unable to accept any donations of goods for the time being.
Please check back here for any future news.
Beverley's Memorial
Those who attended Bevís funeral will recall that a Celebration of her Life was planned for April 10th at North Hants Golf Club in Fleet. Regretfully that too has now had to be postponed.

It is proposed to do something else for Bev in the Summer, by which time things will hopefully have returned to normal. The event will be open to all who new Bev, so please watch here for details in due course. Meanwhile we will be giving thought to what can be done as a suitable permanent memorial to this uniquely dedicate person.

Telephone:
01252 616998
(Our telephone is always busy so please be patient and try again)
Store opening hours:
Tue, Wed & Thurs:
10:00am - 2:00pm
Collecting furniture and domestic items to help those in need
OUR MISSION is to recycle redundant household goods, appliances, clothing etc to benefit genuinely needy people in the area we serve and thereby reduce unnecessary waste to the advantage of the environment. At the same time we provide valuable work experience and skills development for many or our volunteer helpers.

Each month we receive hundreds of requests for the household items, bedding and clothing that are generously donated to us by members of our community.
We regret that we are only able to help people who are referred to us by their social worker, tenant support officer, or other caring agency as being in need.
We are supported by local Lions Clubs under the administration of Lions Club of Fleet (CIO), a charitable incorporated organisation, registered in England & Wales No. 1177181.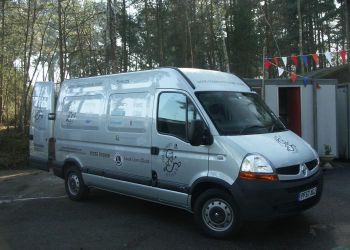 Reliable transport is essential to the operation of the Store, and thanks to the generosity of our supporters, we have two excellent Renault Master vans, one donated to us by Rocket UK, the other purchased with funds provided by the many local sponsors whose logos appear on the vehicles and with whose help we are able to run and maintain both vans. Since they were unveiled on 12 February 2008 the vans have been in service 4 days a week and are familiar sights on the streets of Fleet and the other communities we serve.

We have no regular funding, and are entirely dependant on donations from local people and organisations, so to continue this vital project we constantly need to raise funds. All donations and help with fundraising will be much appreciated.

The Store is operated entirely by volunteers from our local community. New volunteers helpers are always welcomed with open arms.
The majority of the people we help are in Hart and Rushmoor, with others in Farnham, Yateley, Hook, Odiham and other adjoining areas.

For details of exactly what we do please see the 'About Us' page.

We urgently need more furniture, bedding and clothes and especially "white goods" (washing machines, fridges, fridge/freezers, electric cookers) and small electrical goods (toasters, kettles, microwaves). If you have any suitable items we will collect them at a time to suit you. Naturally there are some things we are unable to accept, due to legal, storage, handling or insurance requirements.

If you do have something to donate please call us tat the above number today to discuss - our telephone is often engaged, but please do keep trying - you will get through eventually. Alternatively please use the email contact form below.
We always welcome new volunteer helpers


Visitors and Opening hours
The Store is open Tue, Wed, Thu 10:30am - 2:00pm and is located off Basingbourne Road in Fleet. We are signposted off Basingbourne Road, past the small car pak and along the unmade lne at the end. We are after the Scout and Guides buildings.
For directions, see map under the About Us tab, but please telephone before visiting us.

For safety reasons, we have to discourage casual visits to our busy site. If you have something to donate please first contact us by telephone or using the Contact Us tab above to make an arrangements. Our telephone is always busy so please be patient and try again.
If you need our help you must first get your case worker to contact us to make arrangements. We are unable to accept requests from casual visitors to our premises or allow collections that are not prearranged.
Visitors to our premises should please note that we have CCTV in 24 hour operation around our site and inside the buidlings.
Beverley
Beverley